Information Management
AVEVA's Information Management approach begins by capturing and managing the various information standards used on a project or operating asset. It then unifies data from all necessary sources according to those managed standards creating a network of contextualised information as the backbone of the Digital Asset. Layers of reporting allow quality of information to be assessed, and ultimately serve up complete and accurate information into applications for decision support throughout the life cycle.
Make Better Quality Decisions, First Time.
All our products are based on the unique AVEVA Digital Asset approach, an open environment for all collaborators. Each solution offers an appropriate amount of information access, validation and control to support critical project and operational activities. This creates a single, trusted source of information for better collaboration and decision making and reduced risk across your project and organisation.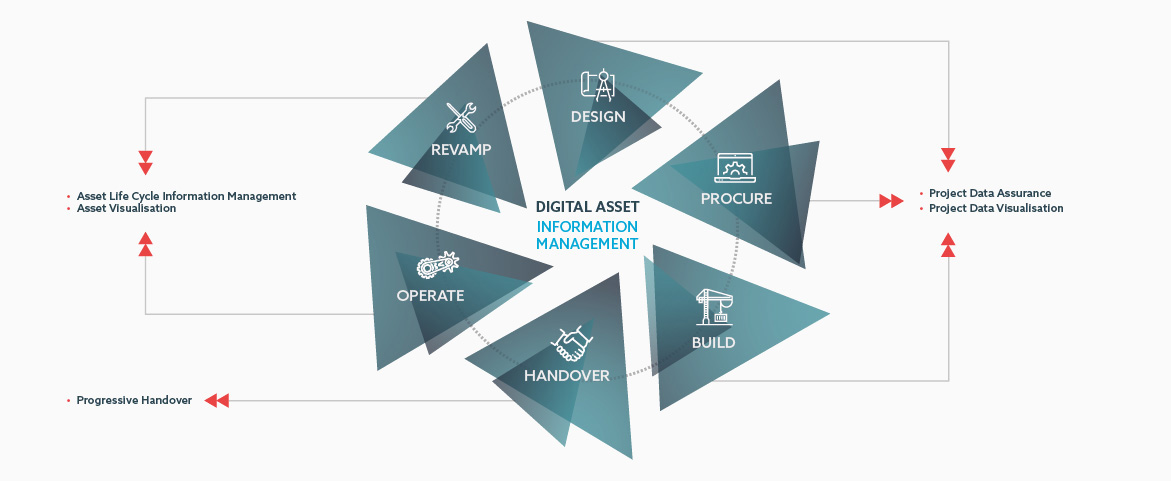 The right information, when you need it
CONTEXTUAL AND BACKGROUND INFORMATION AVEVA consolidates all contextual and background information within the tools themselves – which are then directly connected to your AVEVA Information Management solution. You can access and view any type of content without having to leave your working environment, increasing productivity and decision quality, removing the need to waste time searching for context.

FLEXIBLE AND OPEN TECHNOLOGY STACK Our core capability of a flexible and open technology stack means our users can easily incorporate project data from other vendor systems into one centralised location. Creating and maintaining industry-specific information standards is easy – for example CFIHOS and ISO 14224 – so it's simple to generate and maintain a complete set of information relevant to specific needs and requirements.

DESIGNED WITH COLLABORATION IN MIND All of AVEVA's products and tools are designed specifically with collaboration in mind. As such they all integrate seamlessly with each other – so when you buy any particular module or product you know from the outset that it will fit straight into your existing system.
Please contact us anytime
We're happy to provide more information about our products, services, solutions, technical support, training and events.
You can also contact us if you're looking for the latest news or simply want to connect with us.
m: +36 30 310 1155 | t: +36 1 350 2101
Please fill out the form with your message and we will get in touch shortly.